Explore NJ
Set out for adventure. New Jersey offers a wide variety of experiences sure to meet and even exceed your expectations. Explore each region and discover exciting destinations. Visit the New Jersey Travel & Tourism website for a complete listing of all the adventures available in New Jersey.
DELAWARE RIVER REGION +
MAP OF NJ CAMPGROUNDS +
New Jersey Campground Owners Association has 95 member campgrounds throughout the state. Click here for a pdf version.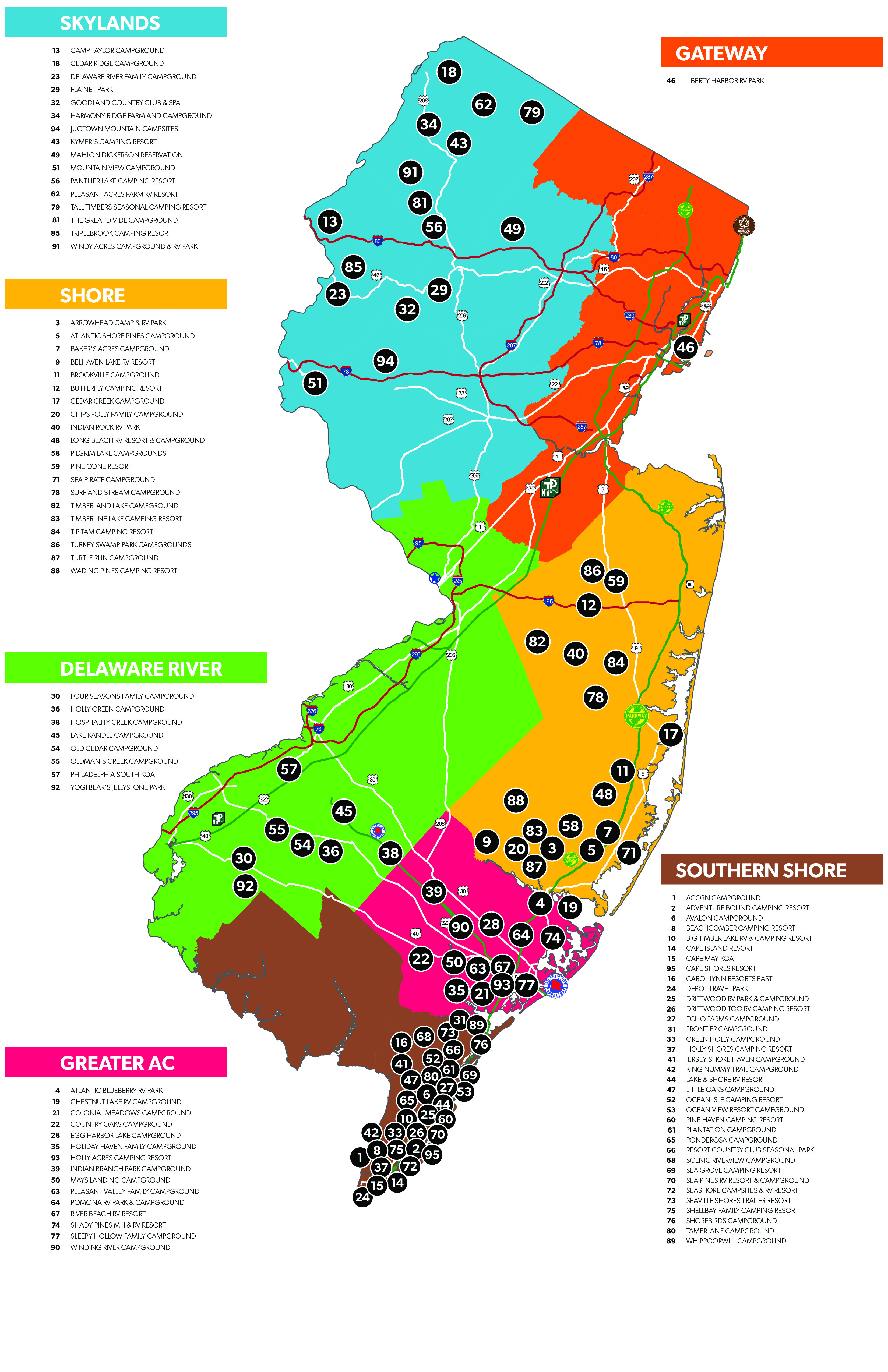 GATEWAY REGION +
GREATER ATLANTIC CITY REGION +
Atlantic City
www.atlanticcitynj.com
World famous casinos, boardwalk, amusements, beaches and shops. Towne of Smithville- Off Route 9, north of Atlantic City. Winding cobblestone paths lined with specialty shoppes.
SHORE REGION +
Seaside Heights, NJ
www.exit82.com
The boardwalk here is one of the busiest at the Shore, thanks to two amusement piers, a water park, wall-to-wall arcades, souvenir shops, informal dining like the Sawmill – think pizza, sausage sandwiches, clams on the half shell – and lively evening entertainment.
Ocean County Tourism
www.oceancountytourism.com
Ocean County features 44 miles of the fabulous Jersey Shore. Tantalize your toes with a stroll on our luxuriously soft, sandy beaches. Explore our wildlife and nature trails, set sail on the Barnegat Bay, indulge in wine tasting at our local vineyard and dance to a live band as the sun sets over our magnificent waterfront venues.
Monmouth County Tourism
http://tourism.visitmonmouth.com/
Southern Ocean County Chamber
www.visitlbiregion.com
SKYLANDS REGION +
Skylands Visitor
www.njskylands.com
Officially, the Skylands Region refers to Northwest New Jersey and includes the counties of Morris, Somerset, Hunterdon, Warren, and Sussex. Destinations just beyond those borders, in neighboring counties and states (Pennsylvania and New York), are equally intriguing and convenient, so don't be confused if you come across some of those here.
Sussex Skylands
www.sussexskylands.com
The Sussex Skylands represents the most spectacular four-season leisure and residential resort destination in the New York Metro area. The region offers the natural mountain beauty and sweeping landscapes of northwestern New Jersey, coupled with an abundance of unsurpassed amenities.
Warren County Tourism
www.explorewarren.org
Warren County Tourism website offers a wide variety of information about events, restaurants, shopping, and more.
SOUTHERN SHORE REGION +
ASSOCIATE MEMBERS +
ADVERTISING/MARKETING SERVICES
AGS GUEST GUIDES
PO Box 1149
Crowley, TX 76036
817-426-9395 - 877-518-1989
www.agspub.com
Marketing Services
ANDERSON'S BROCHURE DIST. SERVICE
1 Grove Street - Suite 103B
Pittsford, NY 14534
585-615-7742
info@campwithandersons.com
www.campwithandersons.com
Brochure Distribution
FINE D. ZINE
6155 Mill Road
Egg Harbor, NJ 08234
609-653-8384
pplacement@aol.com
www.finedzineonline.com
Campground guide maps/placemats
GOOD SAM RV & TRAVEL GUIDE & CAMPGROUND DIRECTORY
2575 Vista DelMar Drive
Ventura, CA 93001
800-323-9076
www.goodsamcamping.com
Directory
SOUTHEAST PUBLICATIONS
7676-B Peters Road
Plantation, FL 33324
800-832-3292
ContactUs@southeastpublications.com
www.southeastpublications.com
Marketing and Advertising Services
UNITED BROCHURE DISTRIBUTORS
14 Franconia Drive
Nashua, NH 03063
800-691-5520
ubd@comcast.net
Brochure Distribution
ASSOCIATIONS
CAPE MAY COUNTY CHAMBER OF COMMERCE
PO Box 14
CMCH, NJ 08210
609-465-7181
www.capemaycountychamber.com
NEW JERSEY CHAMBER OF COMMERCE
216 West State St.
Trenton, NJ 08608
609-989-7888
www.NJChamber.com
NEW JERSEY RVDA
64 Antietam Rd
Temple, PA 19560
www.njrvda.com
New Jersey RV Dealers
ATTRACTIONS
MOREY'S PIERS
3501 Boardwalk
Wildwood, NJ 08260
609-729-0022
www.moreyspiers.com
RESORTS HOTEL & CASINO
1133 Boardwalk
Atlantic City, NJ 08401
800-932-0734
www.resortsac.com
Casino
BUILDING/ADDITIONS
DENNISVILLE FENCE COMPANY
16 Hall Road
Dennisville, NJ 08214
609-886-5944
www.dennisvillefence.com
Fence, Deck and Railing Materials
DURA-BILT PRODUCTS, INC.
PO Box 188
Wellsburg, NY 14894
570-596-2000
www.durabilt.com
RV Sunrooms, Awnings, Pool Cabanas
SILVER-TOP MANUFACTURING COMPANY
11120 Pulaski Highway
White Marsh, MD 21162
410-335-5500
info@silver-top.com
www.silver-top.com
Awnings, Screen & Patio Rooms
INSURANCE
LEAVITT RECREATION & HOSPITALITY INSURANCE
15 Nelke Place
Lewiston, ME 04240
800-525-2060
www.lrhinsurance.com
Insurance
MARSHALL & STERLING CAMPGROUND INSURANCE
2 High Street
Monticello, NY 12701
800-782-2926 x 2603
ijones@marshallsterling.com
www.campgroundandhospitalityinusre.com
Business insurance and risk management
R.C. LAIN, INC.
PO Box 1117
Port Jervis, NY 12771
877-856-5378
www.rclain.com
All Insurance Products & Services
SCIROCCO FINANCIAL GROUP
777 Terrace Ave., Suite 309
Hasbrouck Heights, NJ 07604
201-727-0070, ext. 229
www.sciroccogroup.com
Insurance
TOBIN AGENCY
P.O. Box 176, 926 Haddon Avenue
Collingswood, NJ 08108
800-759-6321
www.tobinagency.com
RV Insurance and Financing
PROFESSIONAL SERVICES
BRIAN C. GREENBERG & ASSOCIATES
1 Eves Drive, Suite 111
Marlton, NJ 8053
856-596-7800
brian@greenbergcpa.com
www.greenbergcpa.com
Accountant/CPA
LORI C. GREENBERG & ASSOCIATES
​1 Eves Drive, Suite 111
​Marlton, NJ 8053
​856-596-9300
lorijdcpa@gmail.com
Attorney
NORTHEAST CAMPGROUND BROKERS
21 Crestwood Rd
Warwick, RI 02886
401-499-8360
mcaetanojohnson@verizon.net
www.necampgroundbrokers.com
Campground brokerage and consulting services
RV SALES & SERVICE
RAYEWOOD RV RENTALS, INC
120 Clove Road
Sussex, NJ 07461
973-875-4961—800-875-7101
rvrentals@84rv.com
www.84rv.com
RV rentals
SALES/SERVICE
EQUIPMENT MARKETERS
100 Melrose Avenue
Cherry Hill, NJ 08003
856-428-3355
Laundry equipment
MCPS FOR CAMPGROUNDS
418 Hazel St.
New Berlin, PA 17855
877-858-9010
www.mcpsforcampgrounds.com
Credit /Debit Card Processing
SOUTH JERSEY ELECTRIC VEHICLES
1322 Doughty Rd.
Egg Harbor Twp., NJ 08234
609-641-1052
sales@drivegreenwithsjev.com
www.drivegreenwithsjev.com
Electric and Industrial Vehicles
WRIGHT CONSULTING AND TRAINING, INC.
421 W. Taylor Avenue
Wildwood, NJ 08260
​609-849-9205
​jeff@wrightconsulting.net
www.wrightconsulting.net
Computer consultant and repair
SOFTWARE
RESERVE AMERICA
​717 N. Harwood St., Suite 2400
Dallas, TX 75201
214-996-7397
Reservation software
SUPPLIES/CAMP STORE
L.J. ZUCCA
760 South Delsea Dr.
Vineland, NJ 08363
800-552-2639
www.ljzucca.com
Candy, snacks, drinks, food service
UTILITY SUPPLY GROUP
26519 Bond Road
Kingston, WA 98346
660-881-0375—800-800-2811
www.go-usg.com
Supplies
WILCOR INTERNATIONAL
161 Drive In Road
Frankfort, NY 13340
800-346-2345
www.wilcor.net
Store products
WEBSITE DESIGN
DAVE HOLAK DESIGN
Dave Holak
Swedesboro, NJ 08085
609-415-0216
dave@daveholakdesign.com
www.daveholakdesign.com
Website & graphic design
PELLAND ADVERTISING
25 Depot RD
Haydenville, MA 01039
413-268-0100
plpelland@pelland.com
www.pelland.com